My original plan of keeping the Monarch Butterfly caterpillars in little plastic containers filled with milkweed leaves pretty much went right out the window when I realized it wasn't going to work. Those little buggers didn't want to stay in the containers, they wanted to roam. It is very hard to wrangle little worms when you can't touch them at all. I decided that I would transfer them to the milkweed plants I had in four inch pots instead, and just leave them be in the enclosed habitat instead. It didn't take long before they all disappeared in the plants. Now I just need to leave them be and hope for the best. I didn't see any of them this morning. I sure hope they are okay and eating. For updates over the weekend, you can check my other blog Pollen Patch to see if there is any news. Have a great weekend everyone!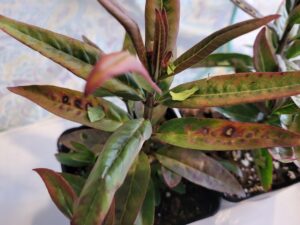 Illusive Trust: A Gripping Murder Mystery Thriller
by Lily Campbell


(35 Reviews)
Genre: Thrillers | Literary Fiction | Mystery
FREE for a limited time
She tried to leave her past behind. But murder followed her home.
Tired of the drama and office politics in the FBI, seasoned detective Brenda vows to leave her work behind and set up a quiet job as a private investigator in her hometown. She's excited to reconnect with her sister Maria and get away from hunting serial killers and drug lords.
But when Maria is found brutally murdered in her home, Brenda is soon thrown head-first into an emotionally-charged investigation which she can't bear to be a part of. Convinced by the local sheriff to become his partner, they begin trying to untangle the web of clues which link Maria to her killer… and Brenda soon realizes that this case is unlike anything she's ever seen before.
With her suspects missing and evidence mysteriously disappearing, Brenda must put all of her wits to the test if she wants to bring the murderer to justice and expose the truth behind her hometown. But time is running out, and her family are dropping dead one-by-one…
Click here to get this book for FREE
° ° ° ° ° ° ° ° ° ° ° ° ° °
Snowing Almond Blossom
by Carlie Ross


(8 Reviews)
Genre: Romance
FREE for a limited time
SHE'S OUT OF THE DOLDRUMS BUT ALL AT SEA!
Christie Anderson feels trapped. This wasn't the life she'd signed up for! She'd dreamed of marital bliss – of smiling, rosy cheeked children. How could she have known that ahead loomed a cheating husband, two hormonal teenagers – and stagnation!
Not yet forty, she should be living life to the full, but instead she feels mired in responsibility and sameness.
But excitement beckons when she and her offspring are asked to crew on a sailing adventure around Europe, and believing all her prayers have been answered, she seizes the opportunity with both hands.
Setting off she is full of optimism, eager to meet any new challenge that lies ahead. However, she finds herself woefully unprepared for the personal dilemmas that unfold and the monumental decisions she will be forced to make.
Is Christie voyaging toward fulfilment, or is she heading straight for stormy waters? Travel with her, experience her highs and lows and meet an array of colourful characters along the way.
Click here to get this book for FREE
° ° ° ° ° ° ° ° ° ° ° ° ° °
The Hourglass Garden
by James Weathers


(27 Reviews)
Genre: Action & Adventure | Science Fiction | Romance
FREE for a limited time
Jacob Wilhelm, a Sonoma Valley winemaker, places himself into cryogenics after suffering from terminal cancer. Suspended in a deep freeze for more than four centuries, he is awakened and revived as part of a research project by The World Space Agency. With a courageous spirit, he rises above the unimaginable challenges presented by a world ruled by an age sustaining drug and a new world order to find his remaining family, his soul mate for a second time, and ultimately, a chance to travel to a distant world.
Click here to get this book for FREE
° ° ° ° ° ° ° ° ° ° ° ° ° °
MARY COOKED A LITTLE LAMB: Book One: The Silver Springs Cooking Competition Mysteries
by M'lissa Moorecroft


(36 Reviews)
Genre: Mystery | Crime Fiction
FREE for a limited time
The Richest Cooking Competition Ever Shown on Television.
Throw together eight talented chefs, an extremely egotistical, philandering judge, a billionaire resort owner, a capable production crew, the possibility of romance and three precocious kids — put them all on a beautiful Island in the Pacific Northwest, throw in a quarter of a million dollar grand prize and you have the recipe for a funny book.
Throw in sabotage and murder, and it isn't quite as funny.
If you like your mysteries to have great characters as well as entertaining plot twists and turns, you're going to love M'lissa Moorecroft's latest book, Mary Cooked A Little Lamb, the first book in her new series, The Silver Springs Cooking Competition Mysteries.
Click here to get this book for FREE
° ° ° ° ° ° ° ° ° ° ° ° ° °
Sheet Pan Cooking for Beginners 2022
by D. Jennifer Erin


(1 Review)
Genre: Cookbooks, Food & Wine
FREE for a limited time
***Sheet Pan Cooking***
Cooking complete meals on a single sheet pan is handy (sometimes two).
Amazingly tasty: Food cooked on a sheet pan tastes better because it employs three processes to heighten flavor: roasting, baking, and broiling.
And it's incredibly adaptable: There are recipes for everything from simple weeknight dinners to special-occasion meals, with snacks and sides, ten quick brunch items, and delicious, stunningly imaginative desserts.
Simply fantastic.
You'll find everything you need for a fast weekday dinner, a lovely Sunday brunch, or a sweet treat here.
Click here to get this book for FREE
° ° ° ° ° ° ° ° ° ° ° ° ° °