I am still getting used to having a small dog. I nearly had a heart attacked when I dropped the lid of a coffee cup on the floor and Junebug was a few feet away. That lid could have done some serious damage…. a lid. My sweet little house elf could have gotten a concussion! I have never in my life been afraid of my dog getting carried off by hawks before. It's also odd to think that the best chance she has at a friend in this house is a guinea pig named Henry. We are going to have to work on that friendship a bit. They are fine together, but little Junebug gets a little pawsie and Henry doesn't appreciate getting smacked in the face repeatedly. Other than that I have no fear of her eating Henry. It's cute to watch Junebug role over for Him, but like most animals in the house they are confused by Henry's head swaying and wobbling. It has gotten worse in the last week, and it almost looks threatening. Once Junebug calms down a bit I think it will be a fun friendship.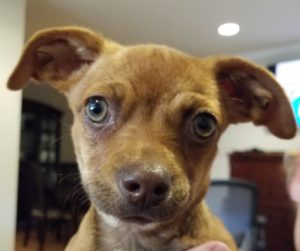 FLESH & BONES (Jake Lassiter Legal Thrillers Book 7)
by Paul Levine


(228 Reviews)
Genre: Mystery | Thrillers
FREE for a limited time
SPELLBINDING LEGAL THRILLER FROM EDGAR NOMINEE PAUL LEVINE
"I was sitting at the end of the bar sipping single-malt Scotch when I spotted the tall blond woman with the large green eyes and the small gray gun."
The next thing Jake Lassiter knows, the woman pumps three bullets into the man on the next barstool. Lassiter, the linebacker-turned-lawyer, has a new client. She's a stunning South Beach model; the dead man is her wealthy father; and the murder case is a slam dunk for the prosecution. Or is it?
Click here to get this book for FREE
° ° ° ° ° ° ° ° ° ° ° ° ° °
She Sins at Midnight
by Whitney Dineen


(384 Reviews)
Genre: Women's Fiction | Contemporary Fiction | Humor & Satire
FREE for a limited time
Lila Montgomery, thirty-two-year-old Hollywood assistant extraordinaire, has a secret. On the outside, she's a hard-working dedicated employee, a good friend, and a loving daughter. But above all else, she's been raised to be a lady, which of course is why she's determined to conceal her secret life. If her straight-laced friends and family back home ever discover that she is really the smashing new author of a steamy romance novel, their disapproval would shame her forever! That's why Lila has chosen to publish her sexy narrative under the nom de plume, Jasmine Sheath.
With her fifteenth high school class reunion on the horizon, Lila finds herself at a crossroads. More than anything she wants to go home and see her childhood friends but is embarrassed that she hasn't accomplished the things she feels she should have by this time in her life; mainly marriage and children.
After another brutal run-in with Melinda Forrester, Oscar nominated actress and client of her boss, Josh Furber, Lila decides that fleeing Hollywood for a month is the best thing for her. Lila packs her bags for her childhood home of Bentley Hills, sure that her friends and family will be the touchstone of normalcy that she so desperately needs. What she doesn't expect is that Melinda will follow her and a tabloid media circus will ensue!
Not only does Lila discover that her home is nothing like she remembers, but she meets and falls in love with the very man that inspired the hero in her novel.
She Sins at Midnight is full of laugh out loud hijinks that will make you never look at Hollywood the same way again!
Click here to get this book for FREE
° ° ° ° ° ° ° ° ° ° ° ° ° °
The Commander
by CJ Williams


(428 Reviews)
Genre: Science Fiction
FREE for a limited time
Lucas Blackburn had a peaceful job as an Airport Director in an out of the way community in central Nevada. He wanted to live quietly and let old scars heal. But then a spaceship landed. The lone occupant, a guy named Sam, gave Luke the keys and said it was up to him to stop a massive alien invasion that was on the way. Luke wanted to believe it was a hoax. The problem was, Sam had the proof.
Click here to get this book for FREE
° ° ° ° ° ° ° ° ° ° ° ° ° °
The Land Uncharted
by Keely Brooke Keith

(71 Reviews)
Genre: Romance | Religion & Spirituality | Religious & Inspirational Fiction
FREE for a limited time
A hidden land settled by peaceful people
The first outsider in 160 years
Lydia Colburn is a young physician dedicated to serving her village in the Land, an undetectable island in the South Atlantic Ocean. When Lt. Connor Bradshaw's parachute carries him from the world war to Lydia's hidden land, his mission could expose her simple society. As Connor searches for a way to return to his squadron, his fascination with life in the Land makes him protective of Lydia and her peaceful homeland, and Lydia's attraction to Connor stirs desires she never anticipated. But will they be able to keep the Land hidden?
Click here to get this book for FREE
° ° ° ° ° ° ° ° ° ° ° ° ° °
Endurance – A Novel of Terror (The Konrath/Kilborn Collective)
by J.A. Konrath, Jack Kilborn


(729 Reviews)
Genre: Horror
FREE for a limited time
WELCOME TO THE RUSHMORE INN
The bed and breakfast was hidden in the hills of West Virginia. Wary guests wondered how it could stay in business at such a creepy, remote location. Especially with its bizarre, presidential decor and eccentric proprietor.
ONCE YOU CHECK IN…
When the event hotel for the national Iron Woman triathlon accidentally overbooked, competitor Maria was forced to stay at the Rushmore. But after checking into her room, she quickly realized she wasn't alone. First her suitcase wasn't where she put it. Then her cell phone was moved. Finally, she heard an odd creaking under the bed. Confusion quickly turned to fear, and fear to hysteria when she discovered the front door was barred and the windows were bricked over. There was no way out.
… YOU'LL BE DYING TO LEAVE
One year later, four new female athletes have become guests of the Inn. Will they escape the horrors within its walls? Or will they join the many others who have died there, in ways too terrible to imagine?
ENDURANCE by Jack Kilborn
Are you brave enough to finish?
Click here to get this book for FREE
° ° ° ° ° ° ° ° ° ° ° ° ° °