I am a horribly mean person. I made my baby basset cry last night. Yes…I cooked again. Last night I cooked meat pie…the most delicious pie you can make that isn't a dessert. It has ground beef in the Manwich sauce, sauteed mushrooms and onions, cheese, all stuffed inside a pillow of Crescent rolls. FACT: It is delicious. No one can hate this meat pie. My baby started crying when he realized there were onions in it. I told him either eat it or go straight to bed. The tears flowed as he took a nibble. It was like I had given him dead puppies to eat. AAHHHHH!! WAAA!! After two bites he realized he loved it. When are these kids just going to trust me? GEEEZ!!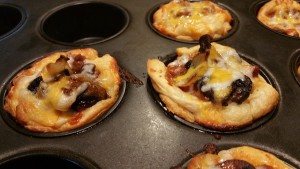 Foreteller
Anne McAneny

(33 Reviews)
Genre: Mystery, Thriller & Suspense
FREE for a limited time
With her present-day life in upheaval, the last thing archaeologist Zoey Kincaid needs is a 25-year-old letter carrying a message of doom. Forced to dust the cobwebs from her own shadowy past, Zoey uncovers crimes, deception and buried family secrets, but will she put it all together in time to ensure a future?
Zoey Kincaid, archaeologist, receives a 25-year-old letter from her deceased mother describing a dire set of occurrences on the banks of the Schuylkill River in Philadelphia. Unbeknownst to Zoey, her mother belonged to a select group of foretellers – people affected by tainted water who could see beyond normal timelines. Zoey then learns that a recently arrested criminal may be her real father… with her DNA as the only hope for the man's conviction. Things go from bad to worse: Zoey's fiance behaves irrationally; the criminal learns of her existence; and, a former stalker, now a powerful corporate titan, resurfaces. The more secrets she unearths, the more the foretelling gains credibility. With suspects in every direction, Zoey must force herself to believe in a mother she barely knew in the past to give her any hope for a future.
Click here to get this book for FREE
° ° ° ° ° ° ° ° ° ° ° ° ° °
To Swallow the Earth
Karl Beckstrand


(22 Reviews)
Genre: Westerns | Teen & Young Adult
FREE for a limited time
108 years in the making! Wade Forester must stay in the shadows because, it seems, everyone has reason to shoot him. His father has disappeared, and his sister won't speak a word to anyone. Beautiful Patricia Laughlin is searching for her family as well. Few people gain her trust or approval, though powerful landowner Bridger Calhoun just might be the man to do it. After a clash throws them to opposite sides, Wade must decide if risking his life to help Patricia is worth the trouble. Bridger must win Patricia's heart, and Patricia must learn which killer to trust with her life. Set in Nevada's silver rush, and reminiscent of Zane Grey and Louis L'Amour, the writing comes from intimate knowledge of the era and area. Having lived off the land, Wilcox depended on his wit, grit, and strength — and that of his animals — for survival, just as these characters do.
Click here to get this book for FREE
° ° ° ° ° ° ° ° ° ° ° ° ° °
Fire in a Haystack: A Thrilling Novel (Legal Mystery Book Book 1)
Erez Aharoni


(25 Reviews)
Genre: Action & Adventure | Mystery, Thriller & Suspense
FREE for a limited time
What would you do if you discovered that a lethal virus is incubating in your body and would kill you within a week? Unless an antidote is somehow found. Ofer Angel's life has never been simple. When he was a teenager – his father committed suicide after being rumored to be involved in shady business deals. When he became a man – he had to deal with difficulties at home, but thanks to his determination, he managed to finish law school and was admitted as an intern at a renowned law firm. Ofer is sent to spend the night with an expert witness for the firm's most important case. The following morning, he finds the witness dead in his hotel room, a flask from which they had both drunk whiskey on the previous night by his side, infected with the bubonic plague virus, supposedly eradicated from the world. Before long, Ofer discovers that a certain unknown element is interested in framing him, perhaps even in bringing about his death. But even if that mysterious element is unsuccessful – the virus now incubating in Ofer's body would eventually kill him anyway within the week, unless an antidote is somehow found.
Will Ofer manage to solve the secrets of his past? Will he discover who tried to kill him and why? Is there enough time to find an antidote?  A fast-paced novel Fire in a Haystack is a fast-paced novel, witty, thought-provoking and chillingly contemporary. Another breathtaking thriller by the author of the critically acclaimed Half a Mustache (2006) and The Eagle's Secret (2009).
Click here to get this book for FREE
° ° ° ° ° ° ° ° ° ° ° ° ° °
The Locust Trilogy: Unearthing
J.L. Norris


(16 Reviews)
Genre: Literary Fiction | Fantasy
FREE for a limited time
What if everything you knew to be true was a lie? What if your entire world was turned upside down within a single moment? Would you run or would you turn and face the truth? These are the realities in which Cote James must face when the result of a rattlesnake bite takes her deep into the world of myth and Native American legend. Barely able to cope with the loss of her beloved mother, Cote is a lost, lonely, and broken teenager who now finds herself eighteen and nowhere to go but her grandmother's house, who seems to be the only sense of peace she has left. After a strange Native American man moves in across the street in the tiny Kansas town, Cote's world and everything she has ever known will take her down a life-altering road paved with heartbreak, revelation, and the paranormal when he reveals to her that she is the prophesied female spirit warrior they have been waiting for and that she is the only one that can save them. Realizing that the Native American legends of past truly exist in the modern world, Cote accepts her fate and faces off against the one they call the "Locust."
Click here to get this book for FREE
° ° ° ° ° ° ° ° ° ° ° ° ° °
Halloween Fun – Scary – Spooky Fun For The Entire Family
Dede Dyer


(26 Reviews)
Genre: Children's eBooks | Crafts, Hobbies & Home
FREE for a limited time
HALLOWEEN FUN Scary – Spooky Fun For The Entire Family! Here is your complete resource guide for everything Halloween; including Halloween Games – Halloween Themes – Halloween Recipes and much much more… REVISED AND UPDATED Dede has done all the work for you to create the ultimate Halloween Fun blast. Included inside Halloween Fun is a Web Resource Guide containing the best Halloween Fun Recipes – Halloween Costumes – Halloween Makeup – Halloween Ghost Stories and much much more all hyper-linked for your convenience. Dede painstakingly researched and added to her collection throughout the years bringing you the best Halloween has to offer. If you're looking for some disgustingly delicious Halloween Recipes what about Eyeball Soup – Swamp Juice or Spider Cupcakes to name a few that will have your guests coming back for more and talking about your unique concoctions for a long time to come. Dede's included the best, original Halloween Games and Themes for kids and adults from her Spooktacular Treasure Chest Collections that engage the imagination and tickle the funny bone. An Extra Free Bonus For You… HALLOWEEN FUN DANCE PARTY SOUNDTRACK Pump up the volume and boogie down with dancing skeletons to the music video Halloween Fun Dance Party, now playing across the web. This free music download is included inside Halloween Fun. ALSO INCLUDED Inside Halloween Fun you'll also discover World-Wide Haunted Houses and Spooky Walking Tours. At the speed of a click you can visit Haunted Houses and Spooky Walking Tours across the country or across the world. You've got to see it to believe it. Halloween Fun is also chock full of colorful images. Whether you're a child or adult you'll get a kick out of a variety of fun, spooky images that promise to make Halloween Fun a page turner from start to finish. Your Halloween will never be the same with instant resources at your fingertips and Dede's imaginative ideas to help you kick-start the ultimate Spooktacular Halloween Fun party. Now It's Your Turn… Pick up your copy of HALLOWEEN FUN and make your Halloween party an experience they'll never forget! ****Now Playing – Halloween Fun Book Trailer with dancing skeletons and spooky cats on my Dede Dyer Amazon Page. Discover what's inside the book as you have a blast watching it!****
Click here to get this book for FREE
° ° ° ° ° ° ° ° ° ° ° ° ° °