I wish the technical geniuses out there would stop working so darn hard to make our cell phones smarter and faster and get to work on something that really matters. Robots! Just put the phone down! Seriously. It's time to invent something with a bit more value. Maybe something that can do my chores, make me dinner, maybe even a robot that forces me to exercise. GREAT! I'm happy that you invented a phone that can tell you exactly where you are standing and how many steps it took you to get there, but I honestly don't really care. Put the phone down, look up, and wow.. there is the answer to where you are.  I'm overweight with a ton of laundry and I'm very hungry! You guys made the hoverboard, now make Rosie the Robot for gosh sakes!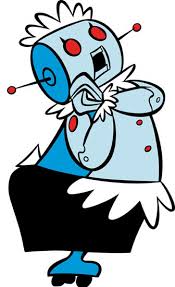 A Nebraska Mail Order Bride Series – Secrets and Doubts (Book 1)
Katherine St. Clair
Genre: Romance
FREE for a limited time
Secrets and doubts… a Mail Order Bride set in Nebraska. Meet Romina, the young innocent bride-to-be and Raymond, an arrogant cowboy in search of a fine woman… Young Romina Holmstrom is growing up in the heart of Boston, 1872. Her widower father, Luden is struggling to make ends meet by arranging a marriage between a wealthy Nebraska farmer and an English woman whose family is low on fortune but rich in title. The English woman, Evangeline Allum, is straight off the boat from Liverpool and into Luden's home when her "sea sickness" turns out to be deadly. Afraid for his daughter and his own financial strife, Luden forces his beautiful Romina to take Evangeline's place as the farmer's future wife. But when Romina meets Raymond Humes she sees a pompous, over-privileged man who is used to getting his way. If she is to remove herself from a marriage to a man she cannot love, she is faced with exposing her father as a liar and possibly worse. Romina has to decide if she will pretend to be Evangeline for the rest of her life or if she will run from the arrogant Raymond, who seems to be hiding a secret of his own.
Click here to get this book for FREE
° ° ° ° ° ° ° ° ° ° ° ° ° °
Charlie Robot
Benedict Martin


(65 Reviews)
Genre: Mystery, Thriller & Suspense | Science Fiction
FREE for a limited time
It's not easy pretending to be a robot. Ask Charlie. The very morning his employer was to unveil the world's first artificial human being to a select group of investors, the android ran away. Now it's up to Charlie to pose as the robot until the real machine is found. The only thing is, androids are supposed to be tall and good looking. Or at the very least, be good at board games. And Charlie? Well, he just… isn't. To make matters worse, a rival robotics company is intent on stealing Charlie for themselves. In short, it's a nightmare, and as the weeks pass and there's still no sign of the run-away android, Charlie is faced with a difficult decision, continue the deception or come clean. Either way, his life will never be the same.
Click here to get this book for FREE
° ° ° ° ° ° ° ° ° ° ° ° ° °
SAVANNAH GONE: A Ray Fontaine Mystery
Doug Keeler


(65 Reviews)
Genre: Mystery, Thriller & Suspense | Humor & Satire
FREE for a limited time
Everyone in the state of Georgia believes expanding the Savannah Port is the single-most important economic development project in the entire state. Everyone except Marine Biologist Claire Robertson that is.When Claire goes missing, Private Investigator Ray Fontaine agrees to search for her. At first Ray thinks finding her will be an open and shut case. But behind Savannah's Gothic facade everyone has a secret. As Ray begins topeel back the layers, he uncovers a growing list of suspects. To solve the case, Ray must put himself, and those he cares about, in mortal danger.
Click here to get this book for FREE
° ° ° ° ° ° ° ° ° ° ° ° ° °
Giant Tales Beyond the Mystic Doors (Giant Tales Three-Minute Stories Book 1)
Heather Marie Schuldt


(14 Reviews)
Genre: Short Stories | Fantasy
FREE for a limited time
Sixty-one delightful tales of courage, greed, acceptance, and hope. Find out what is inside fifteen mysterious boxes. Terrible beasts wait behind mystic doors. Take an unexpected journey beyond the mystic doors. Full of suspense and surprise endings, characters venture into mysterious places. Discover unusual sunflowers and how to hang on when life is falling apart. Moving with twists and turns in strange and wonderful worlds, this work of fiction is a real page-turner. Excellent entertainment. High quality stories. Three-minute tales of fantasy, suspense, and contemporary fiction will keep you turning the pages for more. Enter if you dare beyond the mystic doors!
Click here to get this book for FREE
° ° ° ° ° ° ° ° ° ° ° ° ° °
101 School Jokes for Kids (Joke Books for Kids Book 15)
IP Grinning


(18 Reviews)
Genre: Humor & Entertainment | Children's eBooks
FREE for a limited time
IP Factly presents… '101 School Jokes for Kids', a fun, funny, and often cheesy joke book. 101 School Jokes for Kids for Kids is a wonderful, natural way for children to improve their reading. They are able to practice their reading skills whilst enjoying themselves. Joke books for kids have the added benefit of improving memories, and importantly, instilling confidence. Children are given a great reason to talk in front of groups and with practice are able to feel comfortable doing it. Joke books for kids on kindle are also a fun way for a family to interact, laughing – or moaning – at the jokes.
Click here to get this book for FREE
° ° ° ° ° ° ° ° ° ° ° ° ° °