This little cookbook is such a great find. My partner in crime's grandmother gave her this cookbook with honey recipes that is dated all the way back to 1945. It's fantastic treasures like these that make me even more excited about us starting our own little beehive. With all that fresh honey we can make some beautiful treats from this cookbook.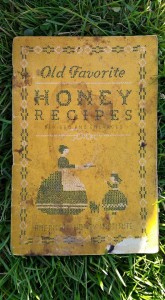 Forager
Peter Stone


(44 Reviews)
Genre: Science Fiction | Teen & Young Adult
FREE for a limited time
Forager's Twists & Turns Will Keep You Guessing Until the Very End
Eighteen-year-old Ethan Jones has a secret that even his parents and foraging companions don't know. And if that secret is discovered, he'll be dragged away by the town's draconian paramilitary Custodians to be dissected like a frog.
The only time he feels safe, the only time he feels free, is when he's out in the ruins of 2122 AD Melbourne, foraging for scrap metals. The dull, drudgery of his life, however, is shattered when he rescues a mysterious Japanese girl from the degenerate, savage Skel. A girl who then breaks the town's rigid conventions in her attempts to get to know him, a girl who also carries the pain of a broken heart.
Meanwhile, the nomadic Skel savages are ramping up their attacks on Newhome's foraging teams and infesting Melbourne's ruins in ever greater numbers. Is this part of a larger plan that could spell the town's doom?
Click here to get this book for FREE
° ° ° ° ° ° ° ° ° ° ° ° ° °
New Atlantis Time Travel Romance Bundle, Books 1-3
Nhys Glover


(17 Reviews)
Genre: Romance
FREE for a limited time
Time Travel Romance at its Best Explore the Utopian World of New Atlantis in this free Bundle Experience the pleasure of the first three full-length novels in the New Atlantis series in one ebook. Over 165,000 words to enjoy as you explore the Utopian world of New Atlantis in the year 2330 and meet the time travelling Retrievers whose task it is to repopulate the decimated planet with people from the past. Meet Cara, the 45 year old teacher from 2011 New York, who is offered a new love and a new life in this fabulous future world. But will she stop rocking the boat long enough to keep what she's gained? Meet Jac, her gorgeous Retriever, who finds love for the first time in hundreds of years, but discovers he may lose it if he's not willing to change himself and his whole world in order to keep her. Then journey back to Sydney Australia in 1968 and meet Jane, the plain little shop assistant who jumps off a ferry to save a boy's life and wakes up in a beautiful new body in the future. But does Julio, the bad boy Brazilian she idolizes, love her or just the body she now inhabits? And finally, join Faith as she engineers an audacious mission to 1942 to rescue 150 children from a train heading for Belzac Death Camp in Poland. When things don't go as planned, she find she must Retrieve Luke, a US commando, who saves her from the Nazis. But this savage warrior has no place in her peaceful world, and even love and a whole new life in the future won't keep him from doing his duty and completing his mission.
Click here to get this book for FREE
° ° ° ° ° ° ° ° ° ° ° ° ° °
The Unicorn-Eater: A Weird Tale of Splatter Elf
Philip Overby


(10 Reviews)
Genre: Humor & Entertainment | Humor & Satire | Fantasy | Teen & Young Adult
FREE for a limited time
Darkly Comic Short Story in the Weird World of Splatter Elf Unicorns aren't always pretty. Sometimes they can be downright ugly. For bounty hunter and obsessive sword-collector Katzia of Clovenhoof a trail of dead unicorns earns her a chance to gain the legendary blade Wyvernheart. All she has to do is get rid of whatever foul creature keeps eating all the unicorns. When the corpse-laden path leads Katzia and her partner, the mystical Starseer Bathbrady, into the Necrogardenia Woods, it's soon clear that they have a big mess on their hands. Maybe more than the two sword-toting badasses can handle. With tough decisions on her plate, Katzia has to ultimately choose between friendship and shiny swords, the consequences of which have spectacularly bloody results. This short story is intended for mature audiences due to strong language, smartassery, splattery violence, and general mayhem.
Click here to get this book for FREE
° ° ° ° ° ° ° ° ° ° ° ° ° °
The French Orphan
Michael Stolle


(14 Reviews)
Genre: Action & Adventure | Historical Fiction
FREE for a limited time
The year is 1640, and Louis XIII is on the French throne. However, as far as you're concerned, this is all pretty meaningless. After all, as a teenage orphan living in a monastery school in Reims, all you have to worry about is dodging the unpleasant advances of a few unsavoury monks and looking forward to a life of penniless and celibate servitude in a religious order. After a childhood and adolescence plagued by a constant longing to know who he really is, orphan Pierre has not the slightest idea that his questions are about to be answered. But you know what they say – be careful what you wish for… Suddenly finding out who you are can bring with it not only happiness and fortune, but danger, friendship and the sort of swift education that the monastery could never have provided! The discovery of who Pierre really is affects not only Pierre and his friends, but has ramifications for the French nobility, the English crown, and most dangerous of all, the machinations of Cardinal Richelieu and his fierce ambition for the Church and for himself.
Click here to get this book for FREE
° ° ° ° ° ° ° ° ° ° ° ° ° °
Dog Goner (Kibble Talk Book 2)
Cynthia Port


(20 Reviews)
Genre: Children's eBooks | Humor & Satire
FREE for a limited time
Secrets will be revealed! Fondest wishes will be fulfilled! Permacrud will be… what the heck is permacrud, anyway? Find out in Dog Goner, the second book in the hilarious Kibble Talk series.
Tawny and Jenny, along with their dogs Dinky and Gunner, have set themselves on a mission – or really, three missions. Gunner just wants to be clean, but it's not as easy as it seems. Jenny is determined to find out the secret to Kibble Talking, and she's prepared to feed kibble to the whole fourth grade if need be. Tawny wants a little brother or sister to make her family complete. But there's someone else with a fondest wish, and they'll do anything to get it. Can Dinky save the day before he becomes a dog goner?
Dog Goner is a fast moving and funny fiction story perfect for readers aged 7 to 12 or as a read-a-loud.
Click here to get this book for FREE
° ° ° ° ° ° ° ° ° ° ° ° ° °