Happy Annual Star Wars Day!! If it absolutely must be a Monday, at least it is a Star Wars Monday. A day when it is perfectly appropriate to make Chewbacca noises, talk like Yoda, or dress up like Darth Vader. Oh…is dressing up like Darth Vader too much? My bad.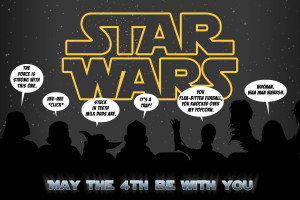 Beautiful Demons Box Set, Books 1-3: Beautiful Demons, Inner Demons, & Bitter Demons (Peachville High Demons Book 0)
Sarra Cannon


(42 Reviews)
Genre: Teen & Young Adult | Fantasy
FREE for a limited time
Over 7,000 5 and 4 star reviews across the internet! Begin this bestselling series with the first three complete novels.
Beautiful Demons
Harper Madison isn't like other girls. She has extraordinary powers, but her inability to control them has gotten her kicked from so many foster homes she's lost count. Shadowford Home for Girls is her last chance, and she hopes Peachville High will be the fresh start she needs.
At first, life appears to be looking up for Harper. She's making new friends and is strangely drawn to the boy next door. But when evidence ties her to the gruesome murder of a Demons cheerleader, Harper discovers this small town has a big secret.
Inner Demons
Becoming a Demons cheerleader was the last thing Harper Madison expected when she moved to the small town of Peachville. Only, this is no normal group of cheerleaders. The training opens up a world of beauty and magic beyond her wildest dreams, but also a world of pressure and impossible expectations.
A world where every secret hides an even darker secret.
Will she find out the truth about her mother? And will Jackson Hunt, the mysterious boy next door, open her eyes to the evils of the Order of Shadows before it's too late?
Bitter Demons
So far, life in Peachville has been tough for Harper Madison. She's survived attacks on her life, learned how to control her magic and met the most gorgeous boy with an unbelievable secret. After her latest stunt at Brighton Hospital, life has gotten even more complicated. The Order of Shadows is determined to tighten their control on her life.
When a future Prima from a nearby demon gate comes to town, she and Harper decide to use glamours to switch places at a party. All Harper wants is to have a little fun.
But the night will end in blood.
And Harper will find out the attack was meant for her…
Click here to get this book for FREE
° ° ° ° ° ° ° ° ° ° ° ° ° °
SONS OF CAIN
ValBianco


(222 Reviews)
Genre: Drama & Plays | Political
FREE for a limited time
An ancient group of twelve unspeakably powerful men are prepared to implement mass medical suicide in the United States. Already in control of the Congress and the Presidency, all that they lack is the Supreme Court. The only thing standing between these SONS OF CAIN and the lives of the Court is a small group of dedicated warriors.
Wealthy ex SEAL, Nick Rieper and his dozen "Knights of Longinus" have pledged their lives and fortunes to battle international Satanism. Battle is joined as they engage the Cainites and their demon leader, Namon, in mortal combat.
Click here to get this book for FREE
° ° ° ° ° ° ° ° ° ° ° ° ° °
Imperfect Chemistry (Imperfect Series Book 1)
Mary Frame


(79 Reviews)
Genre: Humor & Satire | Romance
FREE for a limited time
Lucy London puts the word genius to shame. Having obtained her PhD in microbiology by the age of twenty, she's amassed a wealth of knowledge, but one subject still eludes her–people. The pendulum of passions experienced by those around her both confuses and intrigues her, so when she's offered a grant to study emotion as a pathogen, she jumps on the opportunity.
When her attempts to come up with an actual experiment quickly drop from lackluster to nonexistent, she's given a choice: figure out how to conduct a groundbreaking study on passion, or lose both the grant and her position at the university. Put on leave until she can crack the perfect proposal, she finds there's only one way she can study emotions: by experiencing them herself.
Enter Jensen Walker, Lucy's neighbor and the one person on the planet she finds strangely and maddeningly appealing. Jensen's life is the stuff of campus legend, messy, emotional, complicated–in short, the perfect starting point for Lucy's study. When her tenaciousness wears him down and he consents to help her, sparks fly. To her surprise, Lucy finds herself battling with her own emotions, as foreign as they are intense. With the clock ticking on her deadline, Lucy must decide what's more important: analyzing her passions… or giving in to them?
Click here to get this book for FREE
° ° ° ° ° ° ° ° ° ° ° ° ° °
Wanderer (The Moncrief Legends Book 1)
Carol Sabel Blodgett


(40 Reviews)
Genre: Mystery, Thriller & Suspense
FREE for a limited time
Beyond the wall of computers, all the books rested. Perhaps I belonged to every one of them. Fiction: Immortals aren't real. Romance: I had a lovely wife who I adored. Horror: She died, in my bed, with my best friend. Mythology: I wish all of this was a myth.
There she was. Curled up in an overstuffed chair. Like a child, I darted between the rows of books. She would give the occasional smile as she read. We stayed like this for some time–her reading, me watching. This was exciting. A new person. She was beautiful.
That was three days ago. I've been reduced to watching her from afar, from this secluded spot across the street from her house.
I'm Seth. I was named after Adam and Eve's third child. It's been centuries since I've been with a woman. Immortality can be a nuisance like that. The time, where does it go? I must make her mine.
Some would say that I stalk. I don't see it that way at all.
Click here to get this book for FREE
° ° ° ° ° ° ° ° ° ° ° ° ° °
Patchwork guideCatch the Quilting Bug and Get Started Today!
Elisabeth Sanz


(31 Reviews)
Genre: Crafts, Hobbies & Home
FREE for a limited time
Have You Caught the Quilting Bug? Learn How to Create Beautiful Patchwork! Have you been looking for a way to…
Learn the proper patchwork techniques?
Create your own beautiful and usable quilts?
Decorate your home with stunning pieces you created yourself?
Whatever your reasons may be for wanting to pick up a copy of Patchwork Guide: Catch the Quilting Bug and Get Started Today, creating your own quilt is much easier than you realize! With step-by-step instructions and color photographs, this guide is the perfect introduction for beginners who are looking to dive into the world of patchwork.
With this book, you'll discover:
The basics of getting started with patchwork.
How to properly and safely cut your material.
The process of cutting, sewing, and pressing strips.
Tips and tricks most people take years to learn.
Once you get started, you'll quickly learn why so many people are in love with patchwork. They call it the Quilting Bug – and that's no understatement!
With Patchwork Guide: Catch the Quilting Bug and Get Started Today, you'll learn a new skill that's as practical as it is fun.
Click here to get this book for FREE
° ° ° ° ° ° ° ° ° ° ° ° ° °