What I was going to say was….SQUIRREL!!!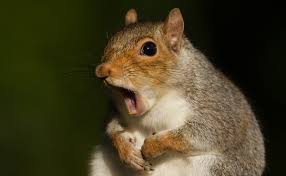 Saddled With Trouble (The Michaela Bancroft Suspense Series Book 1)
Michele Scott


(83 Reviews)
Genre: Mystery, Thriller & Suspense | Romance
FREE for a limited time
Equal parts suspense and understated contemporary romance, "Saddled with Trouble" is a fast-paced murder mystery that revolves around Michaela Bancroft, a 32-year-old horse trainer whose personal life is quickly coming apart at the seams.
Struggling through an ugly divorce and in danger of losing her southern California ranch to creditors, Bancroft finds her already chaotic life turned upside down when her beloved uncle Lou is found murdered in a stable stall, impaled by a pitchfork. The distraught Bancroft vows to find the person or people behind the senseless homicide, but the deeper she digs into her uncle's secretive past (an ill-managed business venture involving an artificial insemination breeding program, rumors of infidelity, mysterious payoffs, etc.), the more potential suspects come to the forefront. Even Bancroft's closest friends — trusted veterinarian Ethan Slater and her fun-loving roommate, Camden — become prime suspects. Ignoring the advice of hunky detective Jude Davis, Bancroft continues snooping around and soon finds herself the killer's next target….
Click here to get this book for FREE
° ° ° ° ° ° ° ° ° ° ° ° ° °
Project Firebird
Nick Green


(11 Reviews)
Genre: Science Fiction | Teen & Young Adult
FREE for a limited time
How do you save the world when it's already too late?
Don't ask Leo Lloyd-Jones. Ask him how to steal a car, or why he got excluded from every school in Salford, but don't come to him for help. This whole thing must be a daft mistake – and if anyone finds out, he's done for.
Earth is on a deadly collision course that nothing can prevent. The only real hope is Project Firebird, deep inside a blast-proof bunker that shelters the brightest and bravest young people. Leo has got mixed up with the likes of Rhys Carnarvon, the celebrated teenage polar explorer, and other child prodigies chosen to kick-start a new civilization.
There's also the streetwise Paige Harris, a girl Leo likes a lot (but not in that way). Paige is desperate to rescue her little sister from London before the catastrophe strikes. But no-one is crazy enough to try that. Almost no-one.
Leo is about to find out why he's here.
Click here to get this book for FREE
° ° ° ° ° ° ° ° ° ° ° ° ° °
Jen Morales Gets A Clue (Lucy Wagner–Book 2)
Claire Matthews


(22 Reviews)
Genre: Humor & Entertainment | Contemporary Fiction | Women's Fiction
FREE for a limited time
Jen Morales is fed up–work is stressful, her best friend Lucy is knee-deep in marriage plans, and her boyfriend Dax needs some work in the maturity department.When she gives Dax his walking papers in a fit of temper, she's left to pick up the pieces and navigate life on her own terms.
But when living solo doesn't measure up to Jen's expectations, she's relieved to find that her friends, including her new office-mate Kevin, are there to give her a clue.
Click here to get this book for FREE
° ° ° ° ° ° ° ° ° ° ° ° ° °
World War 2: New Technologies
Ryan Jenkins


(16 Reviews)
Genre: History
FREE for a limited time
Look around our world today, and take special note of the technology and medicine that is a part of it. From the marvelous advances in health care prescriptions to flying vehicles like helicopters to weapons like missile launchers and guns, many of the things we use every day can be traced back to the advances made during World War II. This eBook is the perfect historical account of these technologies, giving you a detailed background of some of these important components of the modern world.
Discover the great advancements in warfare made during the Second World War by reading about weapons such as the Norden Bomb-sight and the Sturmgewehr 44 gun. Marvel at the surprisingly futuristic advent of radar that was discovered during this period, as well as the development of what we know as the helicopter.
Be amazed at the impact that World War II had on modern medicine, with research that yielded the highly beneficial Penicillin. You will also gain knowledge of the evolution of rations for our armed forces, from hardtack to rations packs.
From the avid historian to the WWII hobbyist, this book is an informative rundown on the far-reaching impact of discoveries and inventions from the period that still have an impact on us today.
Click here to get this book for FREE
° ° ° ° ° ° ° ° ° ° ° ° ° °
CHILDREN OF THE WORLD
Sally Huss


(18 Reviews)
Genre: Children's eBooks
FREE for a limited time
All children of the world count. In their native dress children from China, Holland, Israel, Finland, Indonesia, Spain, Egypt, Norway, Paraguay, Portugal, Tibet, Turkey, France, Germany, Siberia, Scotland, England, Nicaragua, and Ethiopiadance along in rhyme creating a wondrous tongue-twisting adventure.
32 delightful illustrations of children in their native costumes, having fun.
Children who love the books by Dr. Seuss, the Berenstains, Suzy Spafford, Mo Willems, Sandra Boynton, Felicia Bond, Laura Numeroff, and P.D. Eastman will love CHILDREN OF THE WORLD.
Click here to get this book for FREE
° ° ° ° ° ° ° ° ° ° ° ° ° °